Perhaps you have already seen GIULIA. Perhaps not. In any case you have shown a certain interest in my work and that is why I have today the pleasure to announce on the occasion of the film's10th anniversary, the Director's cut of GIULIA. A longer uncensored version of the film that was not possible ten years ago. At that time GIULIA, produced by Tinto Brass, had to obey certain restrictions in the editing in order to comply with distribution regulations in Italy. Ten years later, I felt the need to redo the entire edit from the original rushes unhindered by restrictions. You can now obtain the DVD of GIULIA in French with english subtitles including bonus footage.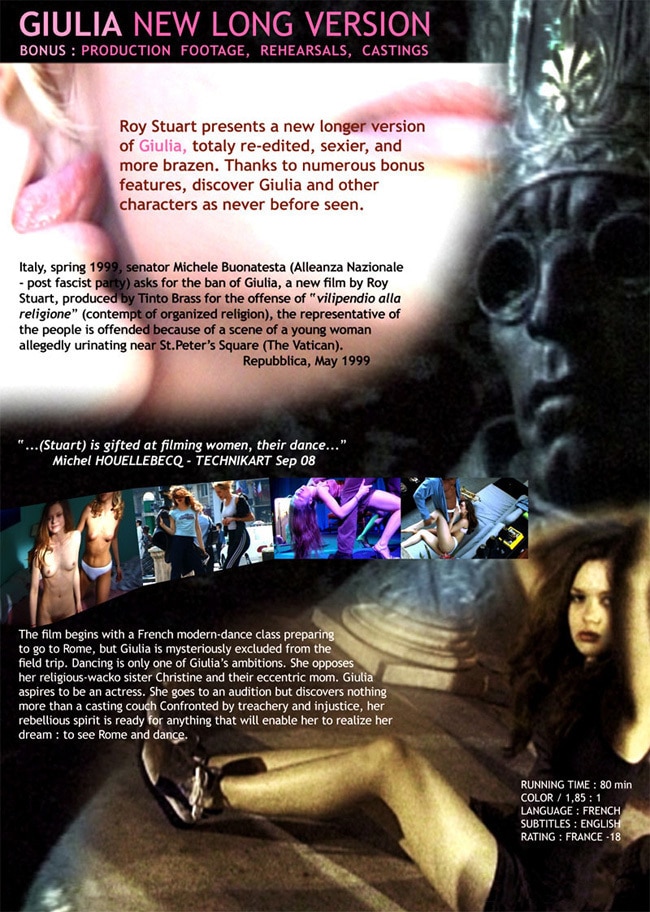 Reviewed by Ranjit Sandhu
I swooned when I saw this. I almost wanted to go to France and find Anna Biella so that I could propose to her. This intensely moody experimental 1h20min film begins with a French modern-dance class preparing to go to Rome, but Giulia is mysteriously singled out not to go on the field trip. Dancing is only one of Giulia's ambitions. Rebelling against her religious-wacko sister Christine and their religious-wacko mom (Tina Aumont, who still looks gorgeous at the age of 50), Giulia aspires to be an actress. I so much admire kids who can talk back to their parents when they need to. She goes to an audition but discovers nothing more than a casting couch. After a few minutes of playing along, she scrams, but promises her casting director anything he wants the next night. The next night is the highlight, for this is when we witness Giulia moonlighting as a live-sex-act performer at a Parisian strip club. (No faking anything during this lengthy sequence. But no graphic close-ups either, thank goodness. I'm sure this was done in one take and with a real audience.) She invites her sleazy casting director to join her on stage, but in his jealousy and shock he chickens out and leaves. Now, here's my confession: When I was a teen, nudity and sex on film were a major turn-on. I'm no longer a teen, and nudity and sex, scripted and posed, no longer do anything for me at all. But then I saw this scene—and I melted.
There are various vignettes as Giulia walks through Paris, chats with a friend, pulverizes a pest in the park, attends a street festival, and so forth. I bet that some of these episodes were not staged, but were real events, shot as they happened. A good example of this is the bit with the Chaplin-like mime in the park, who may not have even known he was appearing in a professional video; he probably thought he was just in someone's home movie.
And I bet that was a real night in a real discotheque too. Oh the lucky people who were there that night! Turns out that Giulia wasn't invited to travel with her classmates because her jealous gay dance instructor Gustavo is having an affair with her sex-show partner Eric. She gets to Rome anyway. I imagine that the Vatican hierarchy blew their collective fuse when they found out what that cameraman used his footage for. But hey, what I love about the Italians is that they're not Catholic. WARNING: Don't watch this just before bedtime. If you do (as I did), it will seriously mess with your dreams. And don't be fooled by the seemingly simplistic plot. This is as moody and as atmospheric as a movie can get.
The wildly expressionistic editing alone would be enough to get under your skin. But on top of that is the music, composed by director Roy Stuart, which is genuinely haunting, and which is sung to perfection by Anna Biella (Giulia) and Alessandro Corsini (Gustavo). In French and Italian with Italian subtitles. This is the only video I've ever seen that looks more effective and compelling and moody than film. So much for that elusive "film look." Jesus was a vegetarian? Aggressive Hawaiians? Planned animal? OH GOD I LOVE THIS MOVIE!